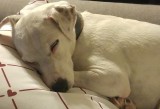 When I adopted Yuki in 2013 I soon discovered that she was dog aggressive and had severe separation anxiety; as soon as she saw, smelled or heard another dog she would starting huffing, screaming and charging, nothing I did would calm her down. I also couldn't even step outside the door without her screaming and going into a panic.
With Shannon's patience and Yogadog's training and guidance I have learned how to better understand what Yuki tries to tell me, to remain calm when I need to re-direct her energy, and the tools we both need to help Yuki live a happier and more peaceful life. She can now focus her attention on me or move past other dogs without much fuss, and she can quietly wait for me at home when I need to leave the house for work etc.
The thing that I love most about Shannon's methods is that rather than teaching my dog to fear a bad behaviour, I am encouraging and rewarding her for the behaviours I desire, which is something that is very important to me. I highly recommend Yogadog Dog training and Shannon's training style.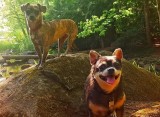 Shannon has been a huge help with my dog Tabby. I started to notice fearful behavior in her as a puppy and as she grew up I only got worse. She was terrified to go outside and spent much of her time under the couch. I have had multiple one on one sessions with Shannon and have completed her puppy class and we often email back and forth regarding help for Tabby when I don't know what to do. Tabby is now a changed dog. She even offered advice for my older dog who developed issues from Tabby's issues. I took all the great advice that she gave us and one year later Tabby loves being outside, can handle when strangers come to visit and never hides under the couch. We still have a long way to go but Tabby's quality of life had improved so much and we have Shannon and her awesome techniques to thank!
Thank you Shannon you have truly changed Tabby's life.
Lots of love!
Devan, Tabby and Beaner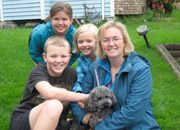 We were just amazed at how Shannon handled our little Maltipoo. He is a super anxious and fearful dog. We never understood him until we met Shannon. Our dog would freak out and bark at strangers forever, he simply could not relax with a new person in our house! When Shannon came to met him she did the impossible, she got him on his back, belly up and relaxed within an hour, lying beside her enjoying his belly rub. That simply never happens with strangers and our dog. Usually it would take several visits for him to just not bark at you. Her techniques have proven successful. It will take time, but he is much better and we now have a clear understanding as to why he behaves the way he goes and how to stop it.
With her help and her amazing understanding of our dog's issues, we have made huge progress with him. We thank her and wish her the best. She is "the dog whisper"!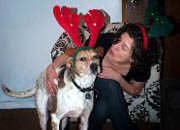 I met Shannon a couple of weeks after we adopted Santi. Santi came from Santiago, Chile with quiet a past. He is 6 yrs old and lived on the streets his first year of life and had never been walked with a leash before he came to Canada. He had great foster parents before us who made sure he got the necessary love and training and that's how we met Shannon, one of the few people that have, very lovingly, accepted to donate her time to work with Santi.
I can't say enough about her. The first pack walk I attended I wasn't even able to take him out of the car. We needed 2 leashes and a muzzle. That was my very first time walking him all by myself. The second class we didn't need the muzzle or the second leash and he walked in the middle of the pack!! Now (after only a few more walks) I can walk Santi by myself, no muzzle, one leash and on my own.
I learned to relax and transmit that confidence to Santi. I learned that if I'm nervous and anxious he feels that too. If I'm confident he picks up on that and he feels safe. He is able to walk past other dogs and is learning to control himself. We are not sure what happened to him but we know that during his first year living on the streets he was probably abused by humans and other dogs so he has a hard time trusting. He has improved tremendously and I'm sure he will be able to interact with other dogs soon. Santi is a great dog and Shannon has been a huge part in his learning process. I love her calm and relaxed energy and I will keep training with her.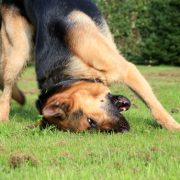 Training our new rescue dog Toosha with Shannon was the best decision we made. Despite being experienced dog owners we were struggling to deal with his special "issues". Shannon truly speaks and understands "dog" language and was able to quickly establish and create a training plan to address his needs and ours. She communicates well and has ensured we knew our role throughout the process. Shannon's approach is based on positive feedback and our dog loves her training sessions! The changes we have seen in Toosha's behaviour have been remarkable and we can't thank Shannon enough for all her efforts. She truly cares and goes beyond expectations. Working with Shannon has been a beneficial and rewarding experience for both us and the dogs and we highly recommend her. It will be the best investment into a life long loving relationship with your dog you will make.